Updated June 5, 2017 – 5:53 pm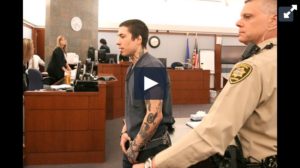 Former mixed martial arts fighter War Machine must serve a prison sentence of 36 years to life, a judge ruled Monday, but the ex-girlfriend he was convicted of beating and raping said she will continue to fear for her safety.
"I don't know how much time in prison would make me feel right," Christine Mackinday told District Judge Elissa Cadish in a tear-filled statement. "But I do know that when he gets out he will kill me."
War Machine, also known as Jonathan Koppenhaver, said that since his arrest on Aug. 15, 2014, he has found religion and peace and is "finally able to manage whatever the hell is going on" inside his head.
click here to continue reading this article on the original source