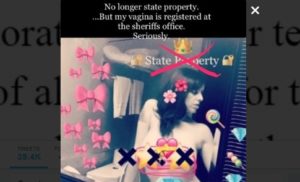 Just a few words from Alexandra Mayers about Christina Pareirra aka @SinCityGrrrl.  Both pro-sexwork and anti-sexwork scholars alike should commend Christina on the risks she's taken and her efforts to educate and inform that masses – not only about her life, but the lives of the various sex workers she's studied over the years.
You don't have to necessarily agree with Christina's stance on the issues that she's passionate about to like her… she's a survivor of many circumstances (which lends to her charm and warrants admiration).
Follow Christina on Twitter
@SinCityGrrrl
and be sure to offer her your support, acknowledgment and validation. She's gone the distance.