It's been known since the days of independent investigative bloggers Luke Ford and Gene Ross, that the Free Speech Coalition (FSC) embodies an extraordinarily high level of hypocrisy…however there is no FSC attorney lawfirm like the one supported by pornstar and male prostitute (Donald Carlos Seoane – a man known to pimp his pregnant wife on webcam) … a law firm and coven of porn industry and pedophile defense attorney's who's level of hypocrisy can only be defined as being "from a completely different dimension" (quite possibly the realm known as Hell).
Ironically, the law firm which has taken on the task of defending mormonleaks.com, has SIMULTANEOUSLY made the choice to sue Alexandra Mayers (an independent investigative blogger and journalist fka ex pornstar Monica Foster) in Clark County Nevada Civil Court (a case that the lawfirm itself has requested Judge Rob Bare to transfer to Criminal Court – case A-14-699072-C Dept. No. 32).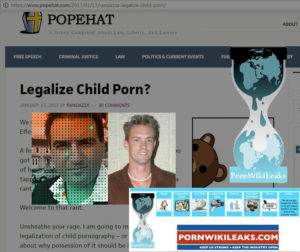 Alexandra Mayers managed to uncover in the year 2013 the fact that this particular law firm doesn't only argue in SUPPORT of child pornography… in addition the managing partner of the law firm attended a luncheon hosted by internationally known convicted pedophile August Kurt Brackob aka Kurt Treptow (the managing partner also spoke on the featured panel the Libertarian Party of Nevada luncheon revolved around).
The question is, WHY is this particular lawfirm seeking to abuse the legal system by fraudulently attaining a permanent injunction against Alexandra Mayers (the founder of PornNewsToday.com) which would violate her freedom of speech rights as an American citizen, while simultaneously defending MormonLeaks.com? The PornNewsToday.com team figures that only God knows the answer to that question… (and it's important to note that the managing partner of the lawfirm mentioned in the article below has made it clear on occasion that he views God as an "imaginary man in the sky").
article below originally posted on Gizmodo.com
On Tuesday March 14th, a group of former and inactive Mormons—who have leaked dozens of internal documents exposing the inner workings of the Church of Jesus Christ of Latter-day Saints—sent a legal letter to the LDS Church warning that MormonLeaks has no intention of ending their crusade for transparency.
Since launching in December, MormonLeaks has published a steady stream of controversial internal documents that have drastically altered how many Mormons view the secretive, gerontocratic governing body of well-paid Apostles and prophets who oversee the business dealings and dogma evolution of the LDS Church.
Their unlikely hero is [redacted], a troll-spirited Las Vegas-based attorney whose private office has been used for porn shoots. He provides First Amendment counsel to adult entertainment companies, the Muslim American Women's PAC, and alt-right bloggers. "I am agnostic about my clients' views," he told Gizmodo.
"I imagine that if you believe in a divine being, you believe that this being can see what is happening behind closed doors—no matter who is in that meeting," [redacted['s letter reads. "If that being can see it, then why not all of its children?"
continue reading this article on it's original source by clicking here