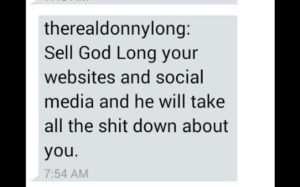 Within the porn industry blogosphere, rumor has it that a man known as "Dave" of The Luxury Companion attained MikeSouth.com via unscrupulous means via the filing a lawsuit (which revolved around the theme of "defamation") against Mike South (aka Michael Strother). In addition, rumor has it that "Dave" loaned Sean Matthew Tompkins aka @TRPWL a dollar amount in the excess of $7,000 to attain partial control of LukeIsBack.com (a website which advertises LA Direct Models, Spiegler Girls and the Lee Network).
On May 23, 2017 – Alexandra Mayers (fka Monica Foster) received text messages from someone who identifies themselves as "The Real Donny Long" – text messages which appear to be a form a blackmail utilizing hate crime websites (hate crimes which targets blacks, retired school teachers, those of the gay sexual orientation and various other vulnerable individuals).  The websites which "The Real Donny Long" refers to in the text message (Pornwikileaks, AdultFYI & OfficialMikeSouth) all heavily advertise, support and promote a criminal, porn industry and pedophile defense lawfirm based in Las Vegas, NV (a lawfirm which appears to have discovered that hate sites which mention their name are an effective and inexpensive advertising vehicle).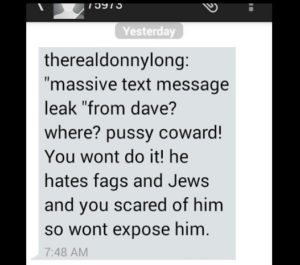 The owner of www.PornNewsToday.com is not interested in selling the website, just as Alexandra Mayers is not interested in selling her websites, social networking accounts or soul.  It's especially insulting that "The Real Donny Long" believes that Alexandra Mayers – who's a major fan of Sammy Davis Jr and Larry David would even entertain the idea of selling any of her internet ventures to "The Real Donny Long" (Donald Carlos Seoane openly is prejudiced towards Gays, Jewish people, Blacks & women) or Dave, a man who according to "The Real Donny Long" has an attitude akin to Adolph Hitler in regards to those of the Jewish faith.
At this stage in the pornographic industry's wars between porn bloggers, porn agents, pimps and porn industry attorneys (who in many cases are essentially the newest and strongest organized crime and porn industry gang leaders) Alexandra Mayers doesn't know who's stories are fact or fiction.  Perhaps there's a bit of truth mixed into all the lies that various individuals attached to the porn industry have told Alexandra Mayers over the years – but the one thing that she knows is that she's tired of the intimidation attempts, blackmail attempts, threats of violence & hate crimes that she (and her family members who are not attached to the pornographic industry) has been forced to endure.
"Dave", Derek Hay, Mark Spiegler, Sean Matthew Tompkins, Kelli Roberts, Donald Carlos Seoane and whatever other parties attached to organized crime in the porn industry need to realize that some people can't be bought or controlled.  Alexandra Mayers has every right to be an INDEPENDENT INVESTIGATIVE BLOGGER and she has every right as an American to exercise her FREEDOM OF SPEECH.  If "Dave" wants to control another porn blog, then he needs to build one HIMSELF and if he wants to remain top dog in regards to the world of pornstars who escort, then he can always go to college and attain a law degree (just as the person he claims to be putting through school to become an attorney is doing).