King 810 is branching out…beyond the rock world & into the pornographic sphere.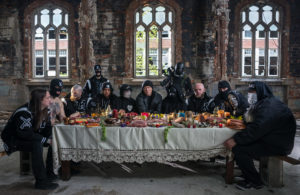 Traditionally so much of the "sex" in sex, drugs, and rock 'n' roll has been simulated (well at least on camera it has been), but King 810 decided to push the boundaries from "fantasy" into "reality"…and into PORNOGRAPHY.
Not too surprisingly, the online pornography giant PornHub opted to debut rock band KING 810's NSFW music video for "La Petite Mort." The clip is one of the first thrust onto the online public stage which incorporates on-screen sex in an 8-minute long music video.
Though the video is intensely striking – the song itself is a stand alone gem… a uniquely potent arrangement of deeply toned melodies and raw vocal style… It's the perfect soundtrack to play as you pull out of the parking lot from the night club after last call, while you try to play it cool and casual as you drive home with that sexy, emotionally needy and mildly intoxicated girl in the passenger seat… Yes, that girl with the tattoos she'll regret in about 10 years and who you settled for earlier in the evening after some other guy snagged her hotter best friend…  That's right…the girl who reminds you that condoms are a good idea – and that you knew from the moment you laid eyes on her that you'd score a one night stand with, take to breakfast, but never call or text again.
The video, which was shot in Los Angeles, California and directed by the band's own David Gunn, is a provocative piece of music and adult content featuring the pornstars stars Jenna Foxx, Jasmine Summers, Amber Ivy, Lily Jordan, Alex Legend and Jake Jace. "La Petite Mort," which refers to "The Little Death" (the sensation of orgasm as likened to death), is matched with explicit visuals in the official video conjuring the darkness and desperation of sexuality.
"A lot of the ideas for our videos came together in the song writing process. This one was no exception," said Gunn. "The record touches on sex in a lot of ways. It used to be that sex and rock and roll went hand in hand, but that archetype has been reconstructed over the years to make way for a safe/tame/boring/politically correct culture, which we have never belonged to. It's sad that something so inherent and necessary has become taboo, but we have done what we always do and that is to follow the art wherever it must go regardless of how uncharted the territory may be."
The band will embark on a series of limited engagement live events next month for their latest album, LA PETITE MORT OR A CONVERSATION WITH GOD, which will include a unique performance each night that will captivate its audiences in their intensely personal and often contentious world.