The Buddhist brother was caught out by a student apparently enjoying a private moment on public transport on Saturday morning in Northern Thailand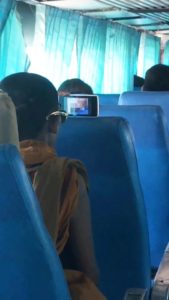 A MONK sparked outrage after he was apparently filmed watching porn on his smartphone while riding the bus.
Student Wittawat Wonghajuk had been travelling on the coach at 10am on Saturday morning in Loei province, northern Thailand.
The man in orange robes and sun glasses is seen resting his phone against the chair in front of him while he watches what seems to be explicit footage of a man and woman having sex.
Wittawat said he ''overheard the monk watching a movie like that'' after he put the clip ''on the speaker''.
He said: ''As soon as I turned to see I could see it, the porno clip, two people were naked having sex.''
click here to continue reading the rest of this article on it's original source