Click here to read the entire extremely well written article about Lisa Ann's comeback to the industry on Xbiz.com
Learn more about genetic immunity to Herpes (HSV1) by clicking here.
XBIZ: After achieving such success, you eventually stepped away from adult filmmaking around 2014. What led to your "retirement" from the biz?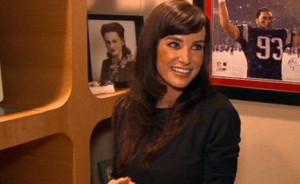 Ann: Well, the year beforehand, 2013, was such a turbulent year in the business. We had multiple players in the industry come up HIV+. We dealt with the syphilis situation, the hepatitis situation. It was a mixed bag, for me, of… every day I was driving to set, whether I was producing and worried about the talent I was shooting, or whether I was talent and worried about myself. I'm one of the few people that never caught anything permanent in the industry. The fact that I have the gene that allows me to not get herpes is something I learned from a blood test. It wasn't until after I retired, when I elected with my insurance to do a cancer screening and blood test, that I found out!
I was working with performers I knew who had it, but they were respectable enough to take their medication during a flare-up. I had to have faith in that medication to have unprotected sex, but can you imagine the double-edged sword of being an agent, and having a male performer cancel because they're having a bad outbreak, and then having to shoot with that performer the next week? This is one of the things in the industry that outsiders don't realize. The risk that we take to have this fun for ourselves, that then translates into fun for many… this risk is something that, if you're a responsible adult, you think about. When someone divulges their personal medical history to you, I couldn't go and tell anyone else that, because I respected that person. But, I still had it in the back of my mind.