Once again,
the Free Speech Coalition (FSC) has put their hypocritical and illogical nature on display for the world to see…
Recently an open letter was posted on their website directed towards Rashida Jones, Ronna Gradus, Jill Bauer and Netflix.  
Below is the most interesting (and comically hypocritical) portion of the letter:
For over twenty-five years, our organization has fought, and won, seemingly impossible legal and political battles protecting the privacy and freedoms of those who work in the adult entertainment industry, as our community is under constant scrutiny — even from those who may have the best intentions.

Privacy is a huge issue for performers, and in direct correlation to their personal and physical safety. Many performers face daily threats of harassment and violence from over-zealous fans and stalkers, and many are stigmatized for the work they do by families and communities. Paradoxically, this series may have made the lives of the workers featured in it substantially less safe by increasing the visibility and accessibility of their private information, such as birth names, and by broadcasting images without consent, and without regard to how that might affect these performers. The dismissal of such concerns with a reference to "fair use" speaks volumes, as do Jill Bauer and Ronna Gradus' remarks discrediting and dismissing the claims and experiences of the workers affected by the series.

Yes, the use of a publically available live web show may technically fall within legal guidelines of "fair use," but it is unethical and dangerous for producers who claim to be on the side of the performers to then take those images, and use them to "out" vulnerable workers. While there is no established code of ethics for documentary filmmaking, Dr Jerry Mosher of the Department of Film and Electronic Arts California State University, Long Beach outlined in a presentation from 2011 the two universally adopted standards: "Do no harm" and "Protect the vulnerable", as well as the importance of informed consent. Hot Girls Wanted: Turned On fails on all three.

Some in our community are fortunate enough to afford to be open about their connection to the adult entertainment industry, but many more are not. Each of us, then, is entitled to make our own decision about how we identify ourselves to the world — how much of our identities and what details of our lives other people can access. Revealing private information about those who work in the adult entertainment industry — information which an individual has chosen to keep private — may result in consequences more serious than we know or care to imagine.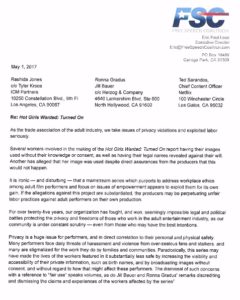 Now the question is, does the FSC plan to send a similar letter to the Internet Movie Data Base (IMDB.com) which lists the legal names of hundreds of pornstars alongside their stage names? Ex-pornstars such as Alexandra Mayers fka Monica Foster and Michael Scott Turner aka Nick East most certainly never voluntarily gave consent to have their legal named listed on IMDB.com, but both have learned to simply LIVE WITH the situation (as they both take accountability for their choice to perform in adult content).
Furthermore what exactly does the FSC have to say at this stage in regards to Donald Carlos Seoane (of Pornwikileaks.com) and Michael Pratt's studio Girls Do Porn (which has benefited substantially from the presence of Pornwikileaks)?
Maybe the FSC should reallocate it's time from issuing "demand" letters to formulating plans for a mandatory class about the realities of the adult entertainment industry for individuals considering taking the leap into pornography…a class which extensively details the fact that today, a performer's real name will WITHOUT A DOUBT be publicly attached to their stage name.
Lastly, the Free Speech Coalition just might want to take into account The Golden Rule, prior to making "demands" of Netflix…especially considering that back in 2013 when Alexandra Mayers fka Monica Foster demanded the Free Speech Coalition explain their tie to internationally known convicted pedophile August Kurt Brackob aka Kurt Treptow, Mayers' demand (request) seemingly fell on deaf ears (even though one of the Free Speech Coalition attorneys who attended a Libertarian Party of Nevada luncheon hosted by Brackob/Treptow HAS opted to file a lawsuit against Mayers which has the intent of violating HER freedom of speech – Clark County Nevada Eighth Judicial District Civil Court case A-14-699072-C dept. 32).