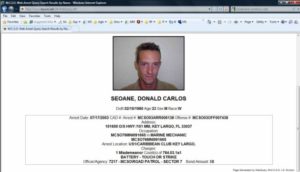 For several years pornstar, male prostitute and criminal Donald Carlos Seoane aka Donny Long has terrorized adult entertainment industry professionals and private citizens via the website he self admittedly owns Pornwikileaks.com and several other online venues linked to Pornwikileaks such as AdultFYI.com and OfficialMikeSouth.com – websites which all contain racist anti-Black and homophobic hate speech, target non-adult entertainment industry professionals such as retired elementary school teachers while promoting self labeled Freedom of Speech and Pornographic industry attorneys.
Donald Carlos Seoane's latest venture appears to be a hate crime website called CandiceLynnPotter.com (Seoane is known for registering the full names of private civilians as domain names).  As of April 18, 2017 a subpoena has been granted by a Fayette County Court in Georgia.
It is important to note that Donald Carlos Seoane's Pornwikileaks.com website appears to be an integral part of the GirlsDoPorn.com operation and business model.  GirlDoPorn.com is owned by Michael Pratt. Pratt is currently facing lawsuits from 14 women who have made various allegations in regards to what may have been unethical, dishonest and potentially criminal actions.