If you were to take a look at Sean Matthew Tompkins of The Real Pornwikileaks twitter account (@TRPWL) tonight, upon first glance you'd think to yourself, "Wow, Sean seems like a really professional blogger who has the pornstars' best interest in mind".  Maybe in some alternate universe, he does… but unfortunately in the universe most of us live in, nothing could be further from the truth.
Sean has worked very hard over the past few years to bury the evidence and truth of his online bullying, stalking, support of racially based hate crime, support of homophobic hate crimes, and apparent extensive criminal background (in which he's rumored to have spent several years in jail) – along with the reality of his living and financial situation.  He's strategically utilized some of the porn industry's most popular professionals as human shields (and in some cases weapons) to consistently leverage his way to his self designated title of "Porn's Top Blogger".  However what Sean doesn't realize, is when you build a house of cards…eventually it will fall (no matter how hard you try to protect it).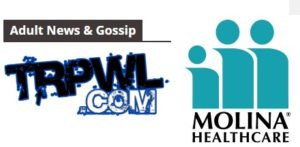 Sean Matthew Tompkins wants you to believe that he's porn agent Mark Spiegler's "right hand man"… but he's not.  Sean also wants you to believe that he embodies business savvy and traditional ethics.  He does not.  There IS one thing Sean (who's blog TRPWL.com, according to him, generates $800 to $1K a month) DOES have however… He has a wife, benefactor and business partner by the name of Vantrese Tompkins (aka Vantrese Blow aka Vantrese Camiso aka Vantrese Camacho).
The Real Pornwikileaks is based directly out of Vantrese Tompkin's home in Riverside, WA – and as you can see in the screen shots below, TheRealPornwikileaks.com, LukeIsBack.com and Ruthless Media (a company which has sent out invoices referencing Sean and TRPWL) are ALL registered to Vantrese Tompkins' address – an address she shares with her husband Sean Matthew Tompkins, who is the father of her children and that she will celebrate her 10 year wedding anniversary with on August 25, 2017.
It's rather ironic that few in the pornographic industry have ever heard of Vantrese Tompkins considering that she's had no problem enjoying the spotlight as a public figure while occupying the very public position in the Riverside, WA community as Tonasket Elementary PTO President.  One can only speculate as to the reason as to why Sean's kept Vantrese behind the scenes when it comes to his pornographic industry ventures (which according to rumor are just a front for a myriad of extortion and blackmail "pay for positive press or I'll trash your reputation on the blogs I operate in cooperation with Donald Carlos Seoane aka Donny Long" type schemes).
It's quite unclear and incredibly hypocritical as to why Sean Matthew Tompkins, as of this past weekend, decided to "call out" Riley Reynolds of Hussie Models in regards to his alleged "outing" of pornstars' names, when it was Sean himself who not too many years ago registered the full legal name of an African-American pornstar's father – a domain he utilized with the specific intent of launching a racially based (anti-Black) and homophobic HATE campaign against the pornstar and her family.  The fact that his wife, Vantrese Tompkins, is a self-defined African-American (at least she was back in the days that she was known as Vantrese Camacho and attended Baylor University) adds even more peculiarity to the tone of the situation.
Vantrese Tompkins, who is currently employed as the Director of Behavioral Health for the F rated (according to the Better Business Bureau) insurance company Molina Healthcare, appears to be the driving force financially that keeps The Real Pornwikileaks afloat.  In addition, she's likely instrumental in her husband Sean Tompkins' day to day operation of of his pornography ventures considering that according to rumor – he does not have a valid drivers license.  Was it Vantrese who transported Sean Matthew Tompkins to and from the various pornographic industry conventions he's attended over the years? If the rumor of his drivers license status is correct, hopefully he has SOMEONE (if not Vantrese) drive him around – as driving himself could land him in jail if the rumors are true…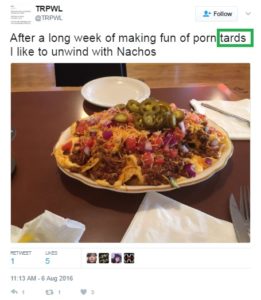 One would likely think that a professionally trained mental health counselor such as Vantrese Tompkins would educate and guide her rather "caveman-esque" husband in regards to not labeling others as "Tards" or "retards" – but no… it actually appears that rather than Sean's demeanor, actions and behavior improving since he married her back in 2007, he's consistently become increasingly angry & aggressive (something potential patients of Ms. Vantrese Tompkins may want to consider prior seeking her counsel).
Is Vantrese Tompkins lending her training within the psychological, mental health and behavioral health fields to her husband Sean's porn industry bullying efforts via the analyzation of the mental state of potential targets (by monitoring their social media feeds)? It's not as unlikely of a possibility as many may think… Just think of all the time, energy and dollars that go into marketing research of various American media outlets, products and brands every year.
There's been chatter throughout the pornographic industry in regards to Sean refusing to converse verbally with his website advertisers and the pornstars he promotes on an increasing basis too. It is said that nowadays all he wants to do is communicate via text message – especially when pornstars (and other adult industry professionals ) confide in him about problems they may encounter on set. Considering a recent tweet by pornstar Gia Paige (a woman closely linked to the owner of Hussie Models) which mentions XXXstarPR (a porn publicity company Sean & Vantrese Tompkins heavily promote) as being someone pornstars can "vent" to – is it Vantrese Tompkins who's actually communicating with the troubled pornstars at times via text rather than Sean? Remember, she is trained in the realm of counseling and psychology (and just as psychology can be utilized to help people – it can also be utilized to achieve the opposite effect).
Sean Matthew Tompkins aka TRPWL is a moderator on XXXporntalk, operates The Real Pornwikileaks and LukeIsBack.com from Vantrese Tompkins' home, is the primary promoter for the horribly reviewed PR company xxxStarPR, and in the past ran an operation called DocsFreakyFlixxx which is documented online as being attached to Wells Fargo Bank fraud.
Only time will tell what other areas of the pornography industry and potential financial fraud investigation realm Vantrese and Sean Matthew Tompkins might manage to push their way into… so if you see Vantrese with her husband at a porn convention, be sure to give her a warm welcome and tell her (if she seems a little uncomfortable as she realizes that she's directly profiting from the exploitation of countless parent's kids), in the words of the XXXporntalk mantra, "Relax – it's not your daughter…[at least not yet]".