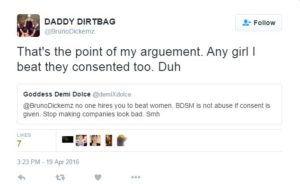 Alexandra Mayers aka Monica Foster commentary: Ironically the person who recently brought this information about Marsha May to light happens to be a male pornstar by the name of Bruno Dickemz who has a reputation for being rough (and sometimes violent) with female pornstars.
excerpt from article below via TheSmokingGun.com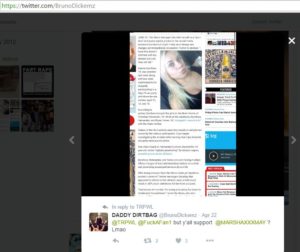 The Miami teenager who bills herself as a "porn diva" and posts explicit photos to her social media accounts bonded out of jail Friday on underage sex charges and immediately returned to Twitter to declare, "i hope this doesn't interfere with my dreams but only time will tell."
Bianca Byndloss, 19, was arrested last week along with two male codefendants for allegedly participating in a May 25 sex party with three female victims aged 12, 13, and 14.
According to police, Byndloss brought the girls to the Miami home of Christian Hernandez, 19. While at the residence, Byndloss, Hernandez, and Bryan Yanes, 18, "engaged in sexual acts" with the three victims.
Videos of the illicit activity were discovered on cell phones owned by the various participants. Cops began investigating the incident after learning that clips from the sex party were placed online.
One video found on Hernandez's phone showed the 12-year-old victim "digitally penetrating" Byndloss's vagina, according to an arrest affidavit.
Byndloss, Hernandez, and Yanes are each facing multiple felony charges of lewd and lascivious battery on a child and promoting sexual performance by a child.
After being released from the Miami-Dade jail, Byndloss posted a series of Twitter messages Saturday that appeared to reference her criminal case, which could result in stiff prison sentences for the three accused.
"God knows im humble. I'm loving and caring fun leads to trouble just live and learn," wrote Byndloss, who also declared, "I love my career i hope this doesn't interfere with my dreams but only time will tell. #blessup for me peeps much love!!!!!!!"
click here to continue reading