Alexandra Mayers aka Monica Foster commentary: A couple days ago, I noticed a porn director (known as @JustDaveXXX on twitter) ranting about an issue he'd had on set in regards to a female pornstar…a pornstar who apparently was Black.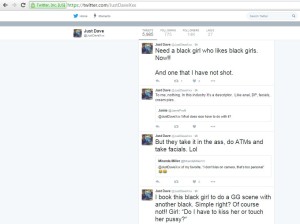 He stated:
I book this black girl to do a GG scene with another black. Simple right? Of course not!! Girl: "Do I have to kiss her or touch her pussy?"
But they take it in the ass, do ATMs and take facials. Lol
Need a black girl who likes black girls. Now!! And one that I have not shot.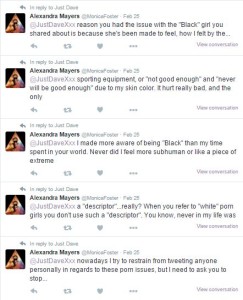 In response, one of @JustDaveXXX's followers inquired as to what race had to do with the issue. In response, @JustDaveXXX stated:
To me, nothing. In this industry It's a descriptor. Like anal, DP, facials, cream pies.
I personally found @JustDaveXXX's response not only insulting, but emotion invoking as well, being that I, as a Black woman and ex pornstar, know the reality of the mentality @JustDaveXXX in actuality embodies.
In the porn industry – the only sex that's deemed as "normal" is straight vaginal only sex between two "White" people.  "White" pornstars typically are paid an increased rate for "extreme" sex such as Anal, DP, Gangbang and of course…sex with a Black person.  On the same token, Black pornstars are consistently paid less than their White counterparts regardless of the type of scene.
In response to @JustDaveXXX's tweets, I stated the following directly to him:
@JustDaveXxx nowadays I try to restrain from tweeting anyone personally in regards to these porn issues, but I need to ask you to stop…
@JustDaveXxx a "descriptor"…really? When you refer to "white" porn girls you don't use such a "descriptor". You know, never in my life was
@JustDaveXxx I made more aware of being "Black" than my time spent in your world. Never did I feel more subhuman or like a piece of extreme
@JustDaveXxx sporting equipment, or "not good enough" and "never will be good enough" due to my skin color. It hurt really bad, and the only
@JustDaveXxx reason you had the issue with the "Black" girl you shared about is because she's been made to feel, how I felt by the…
@JustDaveXxx establishment that gives you the "OK" for terming "Black" as a "descriptor". I don't expect you to change, but now you know
@JustDaveXxx how someone like me felt. Have a nice night.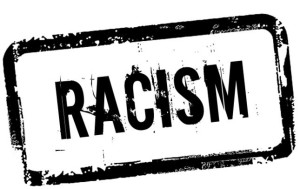 He never replied.
Ironically, White Jewish female pornstar Joanna Angel's or White Jewish male pornstar James Deen's movies don't include the "descriptor" of "JEWISH" or "WHITE" (and most likely, they never will)…
No other industry in the United States of America is more racist towards Blacks than the pornographic industry – and no other people encourage and promote segregation like the White Jewish individuals who own, operate and dominate the American pornographic industry.