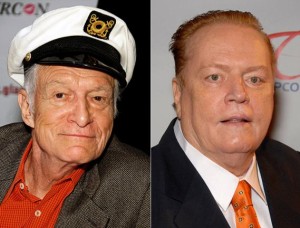 Alexandra Mayers aka Monica Foster commentary: I predict Flynt & Hefner will expire the same week. They're 2 of a kind without a doubt…
The Hustler Honeys could soon displace the Playboy Bunnies at Hugh Hefner's Los Angeles party palace.
Hustler execs want to make an offer on the iconic mansion and confirmed that an internal memo obtained by Confidenti@l expressing their interest is the real deal. Though we're told that the $200 million asking price is out of the question and that Hefner, 89, and his "dirty sheets" would not be part of the deal.
"Larry (Flynt) and I have talked about it and are preparing a bid," says Harry Mohney, whose Déjà Vu company operates the Larry Flynt's Hustler Club chain, which includes a Manhattan location on W. 51st St. "We feel it is an excellent place for The Hustler Club and Hustler Mansion."
According to Mohney, Hustler would move their own staff into the 29-room estate and host "at least" three parties per week for VIP guests. He also says those gatherings would out-Hef the parties Hefner has been throwing there for 45 years.