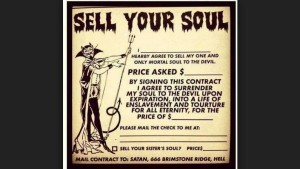 Alexandra Mayers aka Monica Foster commentary: Signing your name on the dotted line of a 2257 form and model release in the porn industry is essentially a blood pact with the Satan nowadays (actually a literally is considering that your actual blood is thrown into the equation via the required STD tests)…
For those of you wondering exactly how much money Satan aka Lucifer is willing to give you for your soul – take a look at the article below (ironically the cameraperson aka soul collector is in the best position. In some cases they earn as much as the talent but are believed to shoulder zero responsibility – unlike the directors and distributors).
There's a well-worn porn cliche about the college student-turned-actress who decided to have sex in front of a camera in order to pay off her student loans. Like many cliches, it's rarely true — but it's worth wondering: How big are paychecks in the porn business, anyway?
Money is a topic that's shrouded in mystery in the adult entertainment world. While it's widely presumed to be a multibillion dollar industry, there's no real firm accounting to back that up. Companies regularly inflate their numbers when speaking publicly and may deflate them at opportune times as well. The same is true of performers.
The median household income for the United States was $53,657 in 2014 (the most recent data available), according to a Census Bureau survey. While that report breaks down average salaries among several careers, there is no data about adult performers.
So to determine who makes what, CNBC spoke with a number of individuals who work in all aspects of the adult world to get a sense of what sort of money trades hands. While there's no way to say with absolute certainty that the figures are correct, they were supported by enough people to at least seem roughly right.
Women are, of course, the main attraction in mainstream porn — and, as you might expect, the amounts paid to actresses span a wide range. A superstar performer — one who has name recognition that extends beyond adult entertainment — earns considerably more than a newcomer or someone who is well-known only among porn enthusiasts.
The performer's representative/agent is also important. There are a number of top agencies, such as LA Direct and Spiegler, whose actresses (again, excluding the top stars) earn what could be called the industry average. But some naive or desperate performers will associate themselves with fly-by-night individuals or agencies, who ask a much lower rate, often in hopes of earning a quick buck.
The determining factor is the sex act performed and whether the actress has done that act on camera before.
"When the girls first get into the business and they're new, I think they can command additional money for different sex acts," said Steven Hirsch, owner of Vivid, one of the biggest adult entertainment studios. "Initially they make more money, then it depends on how popular they become."
Here's how things break down. For a "traditional" sex scene between a man and a woman, the average actress' compensation is typically between $800 and $1,000, depending on the studio's budget. Top-tier performers can earn as much as $1,500, occasionally $2,000, while newcomers with bad representation might earn as little as $300.
More extreme acts, as you might expect, command higher rates. The most extreme — unsuitable for describing in polite conversation — can go for $1,800 to $2,500.
Male performers
Men might be a critical part of porn films, but this is one industry where the balance of pay certainly leans toward women.
With men, there's no pay differential depending on the sex act. Generally, male performers receive a fixed amount per scene or day, depending on how the shoot was booked.
And while there are a few top tier actors, such as Manuel Ferrara, who command top dollar, most earn considerably less.
In general, males average $500-$600 per scene or day. Better known male performers can earn $700-$900; superstars up to $1,500.