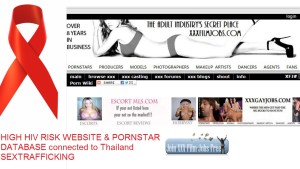 Alexandra Mayers commentary: It was just on December 5th, 2015 I uncovered that xxxFilmJobs.com owner & Pornwikileaks front man, Donald Carlos Seoane aka Donny Long, appears to be trafficking young girls from Thailand into the American pornographic industry.  There's no telling what STD's the young girls may be infected with considering that the STD (namely HIV) testing standards in Thailand differ greatly from that in the United States of America.
Since I have brought to the public's awareness Donald Carlos Seoane aka Donny Long's activity, he has utilized online criminal actions in effort to blackmail me into retracting my research.  I have refused to acknowledge Seoane's threats, as he's nothing more than a low level organized crime thug (who will be forced to take accountability for his actions soon).  Law enforcement is aware of Seoane's ongoing activity.
xxxFilmJobs.com – potentially the greatest HIV & STD risk to the American pornographic industry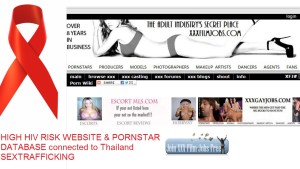 In the wake of the recent headlines proclaiming Charlie Sheen's HIV positive status and his very public attachment to a multitude of well known pornstars – it is now very clear to the public that the presence of HIV in the porn industry is a harsh reality.  However, what the public needs to be made aware of, is it's not only the prostitution acts pornstars may have with the general public that serve as a gateway for HIV to enter the pornographic industry… One of the highest HIV risks to the American pornographic industry talent pool is a website called xxxFilmJobs.com – a website developed, owned and operated by known online terrorist, extortionist and violent criminal Donald Carlos Seoane aka Donny Long.
On the surface, xxxFilmJobs.com appears to be a good idea – a "Facebook" social media type website of which both professional and "wannabe" adult performers alike can connect with adult content producers and directors without the need of agents (who generally request 10 to 15 percent of the performer's rate). However, the reality is that xxxFilmJobs.com is no more than an unregulated sextrafficking venue filled with hundreds of individuals who don't have a current or valid STD test.  In addition, it appears the xxxFilmJobs.com is acting as a "legal" front for an illegal sextrafficking operation that provides young girls from Thailand to Americans for use in the pornographic industry and other adult work venues.
Upon launching an investigation into Donald Carlos Seoane aka Donny Long – it has been revealed that for several months (starting mid 2015), Seoane has communicated on a multitude of online pornography forums posing as "Heather Deep" (a young girl who appears to be a minor and who can barely speak English).  Seoane has attempted to network with an array of American pornographic industry contacts in effort to sextraffick young girls from Thailand he has recruited into American pornography, and to market the content he has already produced independently of them to an American audience.  Furthermore, it seems that Seoane has the plan to market and promote the young girls he's recruited from Thailand into American pornography as "pornstars" on his website xxxFilmJobs.
Due to the widespread poverty in Thailand, many young women and underage girls are forced into selling their bodies – and due to lack of education and carelessness, many such young women and underage girls quickly contract HIV and aren't even aware of their status until it's too late.  Donald Carlos Seoane aka Donny Long has made it clear in his recent video blogs that he routinely picks up young girls in nightclubs (clubs which are often high risk HIV cesspools) to showcase in his adult content.
Inspection of the adult content Seoane has already produced has clearly shown that he has failed to abide by the barrier protection (condom) and 2257 record keeping legislation that is currently in affect for the American pornographic industry. In addition, it is impossible to determine what (if any) STD testing protocols Seoane has utilized with the young girls he recruits. It is rumored that Seoane fled from the American pornographic industry due to his contracting HIV.  If that rumor is correct, in conjunction with the high rate of HIV in Thailand, it is highly likely that each young girl Seoane sextrafficks into the American pornographic industry is a high risk STD (and likely HIV) carrier.
According to TheAustralian.com.au it is the sex tourism to Thailand (an element Seoane openly promotes to Americans in his youtube content) that is driving the rise of HIV cases in the area – and unlike in America where most new HIV cases involve Gay men, the number of HETEROSEXUALS contracting HIV in Thailand is increasing at an extraordinarily rapid rate.
The American National Institutes of Health (NIH) may have foreseen the coming Thailand HIV plague venturing to America by way of sextrafficking operations such as Donald Carlos Seoane's xxxFilmJobs, because in 2009 the NIH launched a $178,000 taxpayer funded study into "Why Prostitutes in Thailand Have High HIV Risk". Though the study has been highly criticized as a "waste of tax payer dollars", it may have been vital due to organized crime attached individuals, such as Seoane, who are aggressively and irresponsibly putting high HIV risk young girls from Thailand into the American pornographic industry (which in turn is often in direct contact with the American general public via illegal prostitution rings).
The HIV/AIDS epidemic in Thailand doesn't only impact the lives of sex tourists, 1st world pornographic industry professionals and the adult civilians connected to them – there's also great impact upon children. According to EastWestCenter.org  By the end of 1994, 16,000 HIV-infected children had been born, and tens of thousands of child prostitutes and street children were at risk of infection. By the turn of the century, more than one million Thai children had at least one HIV-infected parent. It was revealed on July 11, 2015 that Seoane had fathered a daughter with a young woman from Thailand.  If the rumors about Seoane having HIV are true, it is highly likely his daughter was born HIV positive – which may be why he appears to have abandoned her to pursue his "career" in pornography (which in actuality is no more than blatant international sextrafficking).
For several years now, Seoane has gone to great lengths to tell the public that the primary source of HIV in the American pornographic industry stems from "crossover talent" (males who work on both the gay and straight sides of the pornographic industry).  However, could it be that Seoane has been utilizing the "gay side" of the porn industry as an HIV cover up? Could the true source of the consistent appearance of new cases of HIV in the porn industry stem from men such as Seaone HIMSELF who frequent HIGH HIV sex tourism locations such as Thailand (where it has been estimated that the heterosexual HIV transmission rate is fifty-fold higher than that observed in USA and Europe)?  It's highly possible.
It is strongly advised that professional porn industry talent and other professionals not utilize xxxFilmJobs or any websites attached to Donald Carlos Seoane aka Donny Long as they pose a public health risk and are directly connected to sextrafficking.