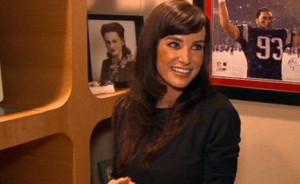 Alexandra Mayers commentary: I never had the chance to meet Lisa Ann, but I admire her drive and work ethic. Regardless of what industry she were to work in, I feel she'd succeed. Unfortunately having a past in the porn industry is perceived by most of society as a negative, but it's nice to see a select few such as Lisa Ann persevere.
You may or may not recognize her in work from her first career, but Lisa Ann is now making a name for herself in the world of fantasy football.
The 43-year-old retired porn star recently traded adult fantasy for a career in fantasy sports as a co-host on Sirius XM Radio, where she shares her tips for success.
"So, Monday nights, my show is 'Lisa Ann Does Fantasy' with my co-host Adam Ronis. And on Thursday mornings, I do a fun show called 'The Morning Men,' and they're not changing the name even though there's a woman involved," Lisa Ann told ABC News' "Nightline."
Although it's been nearly a year since she left the adult film industry, Lisa Ann is still one of the top rated stars on PornHub. She famously portrayed the heroine in the 2008 adult film, "Who's Nailin' Paylin?"
"It was real. Every performer I had sex with, I wanted to have sex with," Lisa Ann said. "I admit that I had so much fun shooting ['Who's Nailin' Paylin?']. I rode that wave from 2008 until 2014. I worked myself to the bone because I knew I could ring that dry."
Since leaving the adult film industry, Lisa Ann has become a public face of a movement, breaking down barriers in fantasy sports. Women are now one-third of all fantasy football managers, up a staggering 20 percent from just last year, according to the Fantasy Sports Trade Association.
"People would tell you, 'Once you've done porn, you're never going to get another job,'" Lisa Ann said. "I put it out there and I really still want people to enjoy it because it's such a big part of my life."